Christchurch Gundog Club Award Scheme
In 2010 we introduced an award scheme at the request of members that they have something to aim for.
This began as a simple Bronze award that is based mainly on obedience and steadiness and has progressed to the Silver award which is biased more towards the requirements of the shooting field. We now have a Gold award which is for dogs working off lead with multiple dummies and gun fire. The requirements for Retrievers and Spaniels are a little different in some tests. There is a small charge to enrol at each level.
The CDGC Bronze award.
The bronze award is not difficult and anyone should be able to achieve it in their first year, with a bit of practice. To gain the award you have to complete a series of exercises and, to prove it was not a fluke first time and that your dog can do the test reliably every time, you then have to complete the test two more times with different trainers. Once you have ticks in all three columns you will be awarded you Bronze certificate and you can purchase a Bronze award pin from the shop if you wish.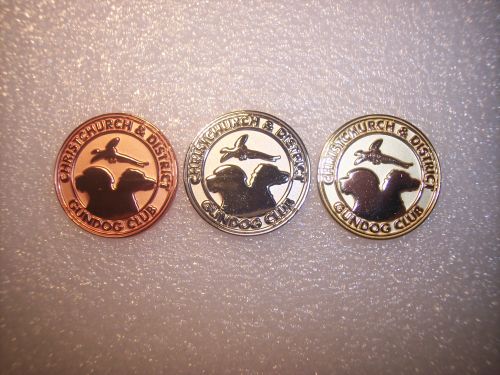 Test 1 Heel.
Handler to walk with dog at heel 20yds off lead. Handler and dog to about turn and return to start.
Test 2 Sit.
Handler to command dog to sit, leave dog 10yds and return to dog. Dog not to move.
Test 3 Stay.
Handler to leave dog 20 yds and turn and face, one command may be given. Dog to remain at sit for 2 mins, handler to return to dog.
Test 4 Recall.
Handler to leave dog 20 yds, call dog, call or whistle. Dog to come without delay, sit in front of handler and, on command, return to heel.
Test 5 Retrieve 1
Straight marked retrieve 10 yds. Dog to be sent on command, retrieve dummy to hand and return to heel.
Test 6 Retrieve 2.
As retrieve 1 but distance 20 yds.
Bronze tests for Spaniels are the same but they will only be asked to work over 15 yds for stay and recall and will not be asked to return to heel.
The CDGC Silver award.
The silver is aimed at more specific gundog work and as some tests require there to be more than one dog the tests are often incorporated into normal training sessions.
Test 1 Walk in line.
Handler and dog to walk inline off lead (min 5 dogs), sit on command and retrieve dummy to hand when sent.
Test 2 Sit Stay
Handler to sit command dog then leave (10 yds). Four dummies to be thrown (by judge) over dogs head whilst dog remains at sit, handler to return to dog when instructed.
Test 3 Split Retrieve
Dog at sit with handler. Two dummies are to be thrown left and right. Dog to retrieve both dummies to hand in order given by judge.
Test 4 Retrieve seen with gunfire.
Seen retrieve to hand (min 50 yds), dog to go straight to dummy when sent, clean pickup and directly return to handler.
Test 5 Unseen from cover.
Dog to be sent on command to hunt keenly under control and to retrieve to hand. There will be a 5 min time limit on this test.
The silver tests for Spaniels will be broadly the same but in test 1 will hunt up to a previously placed dummy and in test 4 will work over 30 yds.
Again these tests have to each be completed three times and on successful completion you will be awarded a Silver certificate and qualify for a silver pin badge.
The CDGC Gold Award
The gold award is a little different, it will be conducted on neutral ground twice a year as numbers demand and each test will be completed once, pass or fail at the judges discretion. The standard required will be as expected on the shooting field and up to novice working test standard.
Dogs to have completed Bronze and Silver awards
Exercise 1.
Long retrieve through hedgerow with gunfire
Exercise 2.
Long hidden retrieve from cover with gunfire.
Exercise 3.
Hidden retrieve from cover with distraction.
Exercise 4.
Walk up in line and split retrieve from light cover.
Exercise 5.
Water retrieve.
Once you have completed the Gold you will be awarded a special framed certificate and qualify for a gold pin badge. You will now be able to say that you have a trained gundog and should be very proud of the work you have put in to get to this point.
The CDGC Water test
We devised this test in 2017 as water was not included in the other awards and not all dogs are happy in water. It is run as often as required as numbers dictate and will be held on a forest pond. It will consist of a number of retrieves from water and you will receive a certificate with the judges score of your performance on the day.