AGM 2022
The AGM was fun this year with lots of members present and loads of wine and nibbles after the business was done.
The annual achievement awards were presented to the following members reflecting their hard work with their dogs through the year.
Most improved Spaniel Handler: Carl Howsin with Coco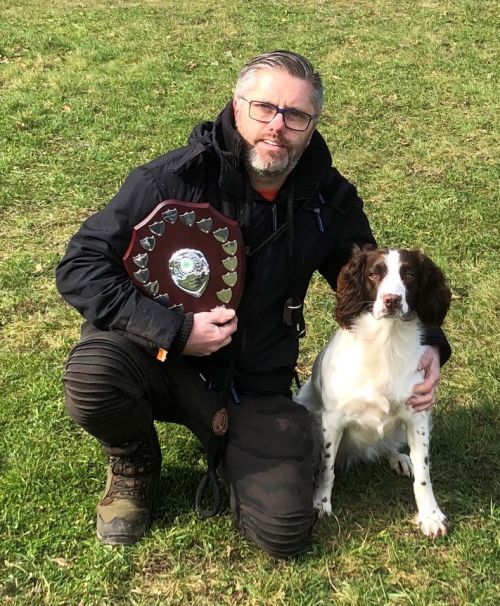 Most Improved Spaniel: Louis handled by Sammie Podesta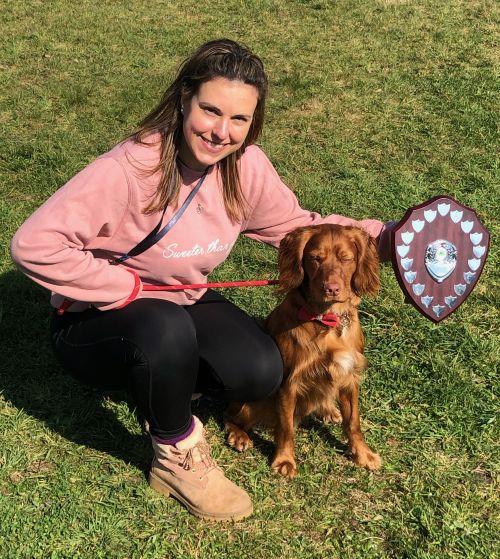 Moat Improved Retriever: Maverick handled by Janice Smith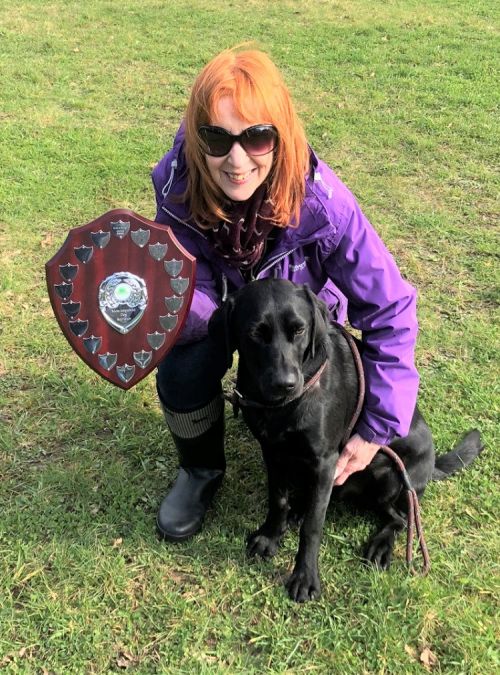 Most Improved Handler: Tim Jenkins with Reggie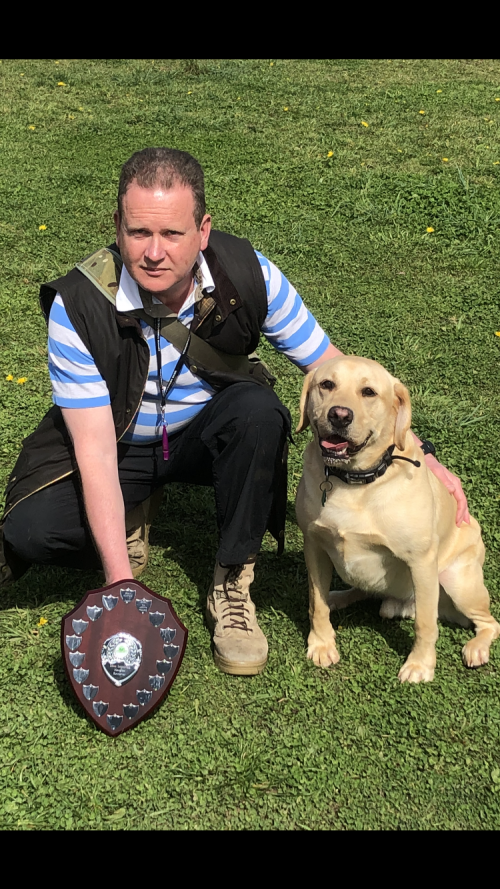 Assessment Day 2021
The Assessment day this year was a little later in the year than normal but somehow or other we had a lovely day weather wise (once the mist cleared) and I hope that the around fifty dogs and handlers who came had a fun day. The day is arranged as a slightly more formal test with independent assessors who don't know us or our dogs so can mark us fairly on our performance on the day. Our thanks go to these gundog people who give up their Sunday for us There were lots of trophies and rosettes awarded and the judges got to pick their favourite dog for a special award.
The results:
Spaniel Puppies
1st Racheal Higgins- Ralf
2nd Ann Prichard- Coco
Spaniel Beginners
1st Alison Tilbury- Rocket
2nd Chris Norman- Bella
3rd Nicky Otten- Zoe
4th Sarah Harvey- Mars
5th Carl Howsin- Coco
Spaniel Advanced
1st Jane Taylor-Ball- Fizz
2nd Sarah Harvey- Decker
3rd June Galton- Masie
4th Michelle Gormley- Bella
Retriever Puppies
1st Jo Clement- Bryn
2nd Sue Ansell- Freddie
3rd Jenny Gribble- Jack
Beginner retrievers (A)
1st Adam Smith- Bodhi
2nd Aravinda Valluri- Zac
3rd Janice Smith- Maverick
4th Maurice Genge- Hudson
Beginner retrievers (B)
1st Malcolm Smith- Nessie
2nd Malcolm Smith- Nellie
3rd Nigel Alcazar- Rafiki
4th= Lindy Ventham- Finch
4th= Mandy Eames- Summer
5th Melanie Newman- Woody
Advanced retrievers
1st Nark Haslington- Bonnie
2nd Jim Eames- Barley
3rd Gorgon Blythe- Inca
4th Pat Hulme- Caspar
5th Ann Peers- Archie
And finally the Judges Choice Awards went to Bella for the Spaniels and Bonnie for the retrievers.
Very well done to everyone.
Chris, Bella and Judges Choice Award.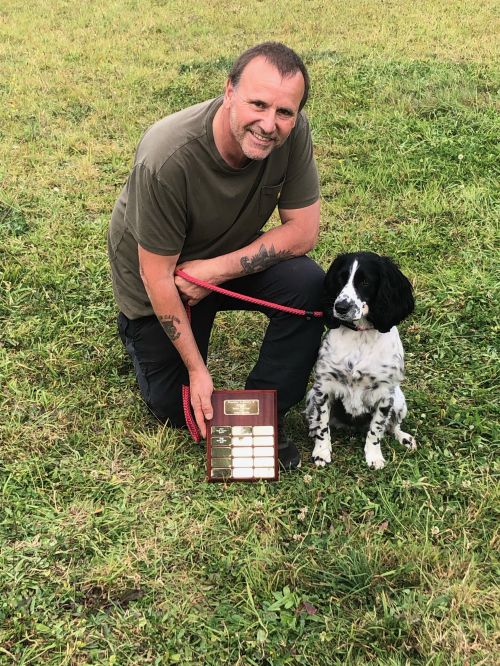 Water Test May 2021
A number of retrievers attended a water test session at Julies Bog Farm recently the results were mixed but we now have scores which we can attempt to improve upon!!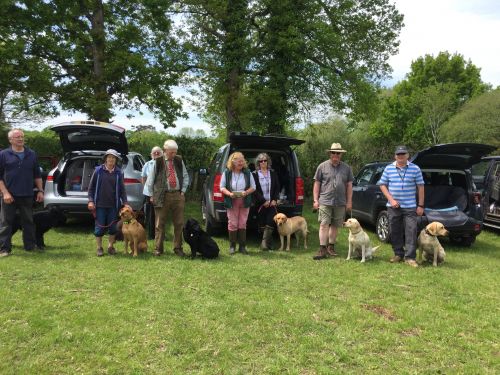 Assessment day 2019
This years assessment day saw our biggest ever entry with nearly 60 dogs entered, which from a club of not much over one hundred members, is great. Hopefully it shows how much you enjoy working with, and training your dogs.
Once again we had warm and sunny weather and it was good to see so many family and friends there to watch the family pet show off their skills learnt during the year.
Each class had three tests to complete this year all of which were things we had been shown and practised during normal training. Marks were awarded for handling and results so even if the dog was misbehaving there were still points to be won if you were doing the right thing!
Our thanks go to our judges on the day who very kindly give up their Sunday to mark our efforts and pass on a few tips and observations. The spaniel judge this year was Jeremy and the retrievers were judged by Henry who stepped in at the last minute when the the judge we had arranged was admitted to hospital, many thanks to both of you.
Our thanks also to Taff and one of our Spaniel members who cut the grass in the field to stop us losing too many Spaniel puppies!
Congratulations to everyone who won a rosette or trophy and hope to see you all, and those of you who couldn't make it this time, next year for another fun and enjoyable day.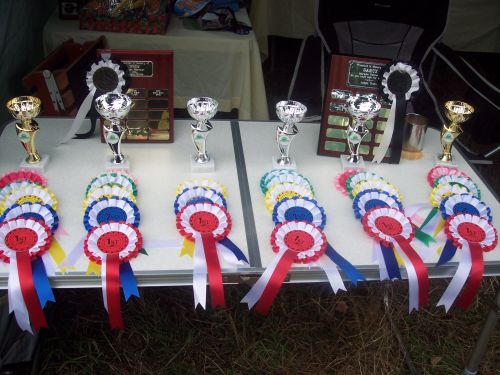 Results

Retriever Puppy
1st Francesca Irving, Teasel
2nd Tim Jenkins, Reggie
3rd Alex Kreutz, Charlie
4th Micheal Kelly, Star
5th Sharon Coulson, Murphy
Retriever Beginners
1st Jo Stalley, Bailey
2nd Peter Rogers, Ziggy
3rd Charlotte I'anson, Spencer
4th Gordon Blythe, Inca
5th Grace Godwin, Otis
Retrievers Advanced
1st Pam Hewitt, Tally
2nd John Laflin, Tilly
3rd Sue Proctor, Ruby
4th Peter Gribble, Finlay
5th Fleur Broderick, Riv
Spaniel Puppy
1st Taff John, Glyn
2nd Lesley Davis, Monty
3rd Sarah Harvey, Decker
4th Stuart Neave, Hunter
5th Wayne Parkes, Winnie
Spaniel Begginers
1st Barry Juniper, Lara
2nd Steve Ainscow, Ella
3rd Bob Thompson, Bo
Spaniel Advanced
1st Andrew Fleming, Rocky
2nd Jane Taylor-Ball Fizz
3rd Kathy Cleary, Pootle
4th Debbie Hobbs, Mia
5th Paul Fisher, Floss.
Special Award for the Spaniel the judge would most like to take home - Fizz
Special award for the retriever the judge would most like to take home - Teasel
Flat Coated Retriever Society Obedience Award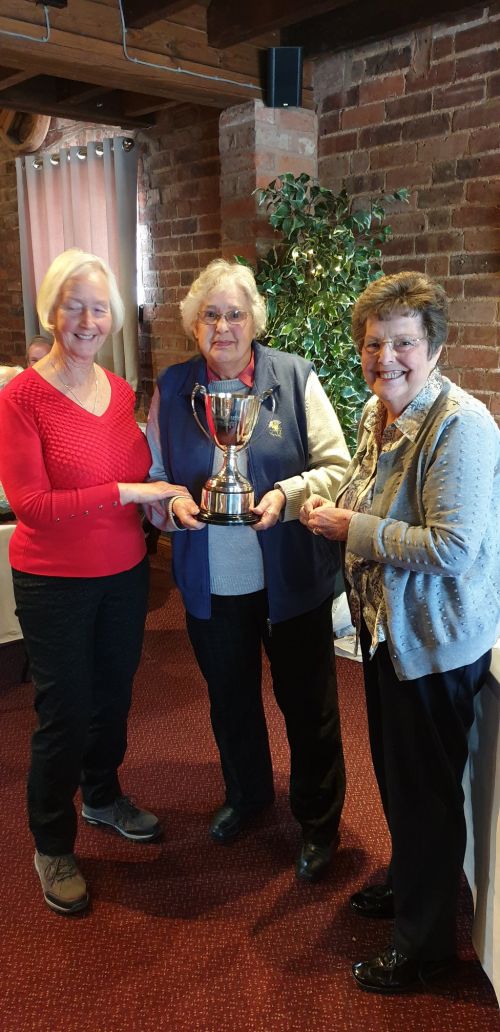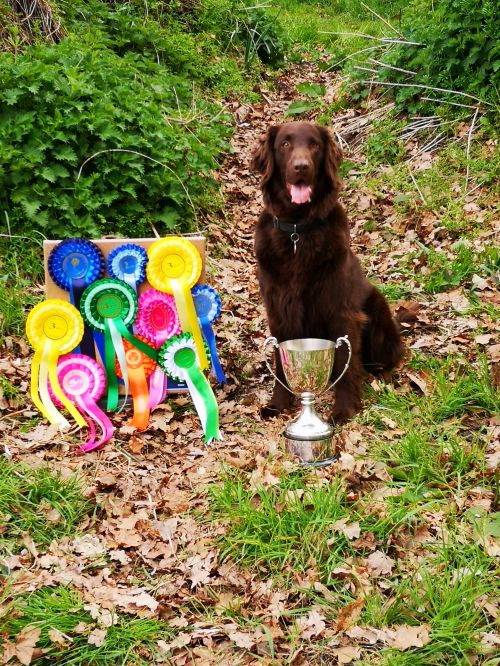 Most of you will know that Pam our treasurer handles the liver Flatcoat 'Tally' during a normal training session. 'Tally' is owned by Jenny Haines who often helps Pam on the desk on a Sunday. What you may not know is that when not working for Christchurch Gundogs Pam and Tally take part in obedience competition nationally. Each year the Flatcoated Retriever Society awards a trophy to the flatcoat which has gained the most obedience points that year, and Pam and Tally won this trophy last year. The picture shows them receiving it at the society AGM recently.
Congratulations and well done to all, see what can be achieved if you listen to your trainers and put in a little homework!
Annual General Meeting 2019
Our AGM this year was held as usual at Bransgore Village hall with around 40 members attending, it was great to see the larger than usual numbers, perhaps it was because it was a few weeks later in the year or maybe because the weather was a lot kinder this year.
We heard from Brian about the healthy state of the club and the rise in member numbers and also about the success of the new training ground, lets hope we can continue to train here for a good while.
All officers and committee members were re elected and Pam explained the ins and outs of the balance sheet which suggests that, with the rise in member numbers, we won't be increasing training fees in the short term which makes our club very good value.
After the official work was over we enjoyed the wine and buffet and the chance of a natter with the other members.
Thanks to all who made the effort to attend this year.
The prestigious Annual Awards for 2018 were awarded as follows.
Most improved Dog retriever -Barley handled by Jim Eames
Most improved Dog spaniel -Fizz handled by Jane Taylor Ball
Most improved Handler retriever -Kevin Rockett
Most improved Handler spaniel -Andrew Fleming.
Assessment Day 2018
Another very successful Assessment day with around 45 entries. Despite it being a very warm day there is plenty of shade on this ground and everyone brought loads of water so dogs and people stayed well hydrated. I hope everyone enjoyed the day and all stayed for the prize giving which was great, thank you.
The day consisted of three tests for each of puppies, beginners and advanced dogs in both Retriever and Spaniel groups so there was lots of opportunities to win one of the rosettes or trophies and many congratulations to those who did, it shows that all the work pays off in the end.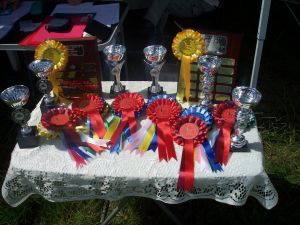 To anyone who hasn't been to an Assessment Day, please try to join in next time, it is fun and you won't be asked to do anything you haven't already tried in training and the chances are your dog will surprise you.

Of course we have to thank our testers on the day who were Henrietta Fletcher for the retrievers and David and Diana for the Spaniels, thank you for giving up your Sunday.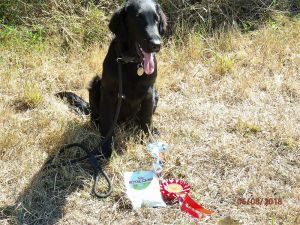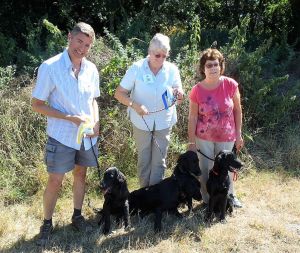 Results
Retriever Puppies
1st, Fleur Broderick with Moss, 2nd Jenny Gribble with Robbie, 3rd, Pete Dally with Bracken.
Retriever Beginners
1st, Barbara Lidbury, Berry, 2nd Mark Jones, Loki, 3rd, Heather Smith, Timba, 4th, Jenny Beard, Lexi, 5th, Kevin Rockett, Jasper.
Retriever Advanced
1st, Lin Howlet, Ella, 2nd, Anne Law, Beamish, 3rd, Pat Hulme, Rufus, 4th, Anne Dally, Fern, 5th,Fleur Broderick, Riv.
Spaniel Puppies
1st, Jane Taylor-Ball, Fizz, 2nd Lee Cunnah, Loki, 3rd, Adrian Lewis, Alfie.
Spaniel Beginners
1st, Mark Petty, Jet, 2nd, Dougie Grieves, River, 3rd, Barry Juniper, Lara, 4th, Michelle Gormley, Bella, 5th, Matt Hayfield, Kes.
Spaniel Advanced
1st, Debbie Hobbs, Mia, 2nd, John Bradley, Murphy, 3rd, Kathy Cleary, Pootle, 4th, Andy Green, Poppy, 5th, Paul Fisher, Floss.
The retriever that the judge wanted to take home was Dyills, Malcom Smith and the spaniel was Jet, Mark Petty.
Bog Farm Away Day 7th October.
Once again our thanks to Julie for the use of her farm to hold an Away Day.
Nearly 40 members attended and I hope all had fun. The classes this time combined Retrievers and Spaniels in the various abilities and it was nice to have a chat and a laugh with the people we don't often meet.
Some of the exercises were quite challenging but I think we were surprised how well the dogs coped, and it taught the handlers a lot as well, 'trust your dog'.
Many thanks also to Julie for providing copious sausage rolls and a little 'pick u up' at lunchtime.
Those of you who couldn't make it missed a good day. Hope to see you next time.
Gallery Images
Click on a thumbnail to see any other images or click on the right or left of the main photo to see the next/previous one.
Click the

icon (bottom-right) for further information.